Published on Aug 21, 2023
Remote Access Control And Automation System For Electronic Appliances Using Telephone Line
Abstract
The aim of the project is to secure television from natural interrupts. Here in this project, we use telephone line as control media. The project allows us to control TV. All we have to do is to connect the gadget to our telephone lines and the output lines of gadget to access the appliance.
DESCRIPTION:
If any calls arrived are sensed by dial sensing unit and then transmit the data to TV receiver. The data is thus transferred to our TV via radio frequency waves. Our gadget automatically detects the incoming phone call. Then it notices the data and turns on/off the mute/power. Thus the project is much useful to secure via telephone line. This project allows as controlling equipments using RF technology.
Here FM signals are used as controlling media. Here in this project, the user is provided with a RF remote which consists of a keypad and a FM transmitter to transmit the signals transferred. The master unit consists of a FM receiver and a microcontroller for enabling /disabling the device selected in handset with the use of relays.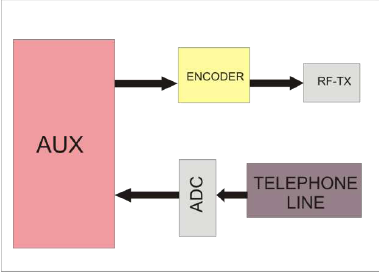 Thus this simple gadget allows the user to access the home appliances / any appliances wirelessly from any section of the campus since the FM waves can travel anywhere via the buildings /walls and doors where an IR remote is directional and can't penetrate through walls or doors. Thus this Project is highly Effective, Very Economical and much simple to use.