Innovation Car Model in Automobile
Published on Sep 03, 2023
Abstract
This is a project we have to developing for innovative car model and aero dynamic system oriented. Which is contain for like top windows and aero dynamic plate attached for mechanism based like four bar links.
This is project have a fuel efficiency increased and future car model fabricated, idea implementation.
Now a day many more care production going to increase, whereas innovative cars also out coming automobile industries, maximum car production industries like an innovative cars production, this a project like an innovative model based.
Which is model containing aero dynamic foil and car top window opening system almost have a many car but this model having a fully mechanism and easy to handled and increased efficiency level.
INTRODUCTION:
Automotive racing must have started at the turn of the twentieth century when the first two automobiles pulled one beside the other. From that first moment on the sport consistently grew, not always following the evolutionary trends of the automotive industry. For example, contemporary race cars have components such as inverted wings and protruding angular plates, which seem unpractical, and are hence unusable by the automotive industry.
Those involved with the sport insist that motor racing is a "pure sport" with its own set of rules that need not benefit the general automotive industry. Such opinions paved the way to numerous forms of racing. In some racing categories the vehicles resemble production sedans, and in others they look more like fighter airplanes, not to mention the various tracks that range from paved/unpaved to straight, oval, or regular road courses.
In all forms of racing, however, aerodynamics eventually surfaced as a significant design parameter, and by the end of the first 100 years of automobiles, all race car designs have some level of aerodynamic element. Although the foundations of aerodynamics were formulated over the past 200 years, not all principles were immediately utilized for race car design. Naturally, the desire for low drag was recognized first and Hucho (1998, p. 14–15) describes one of the first streamlined race cars (the 1899 Camille Jenatzy) to break the 100 kilometer/hour (km/h) "barrier." This electric-powered racer had a long cigar shape in an effort to reduce aerodynamic drag.
The rapidly developing automotive industry followed and one of the most significant designs of that era is the 1924 Tropfenwagen ("droplet shape" in German) described by Hucho (1998, p. 18–19). This automobile's shape was dominated by the airfoil shape (particularly from the top view) and recent tests in the Volkswagen wind tunnel showed a drag coefficient of CD = 0.28, which is outstanding even by today's standards.
WORKING PRINCIPLE:
We have to fabricate car window opening and aero foil attached in the light vehicle cars. The two four bar link which connecting on top window part and three layer of window part connecting together on one elbow link it is drive to connecting on dcmotor it is drive to only, when you need condition.
Then other operation is aero foil plate attached to the end of car position this is also drive to dc motor and six bar link connecting. It is compact of car structural model in coming to home position.
When you need the windows opening and close and aero foil system press the button it is drive to self.
LAYOUT: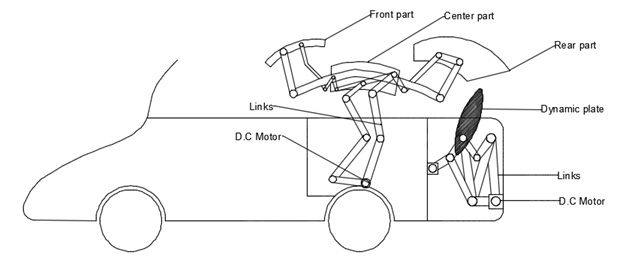 ADVANTAGE:
• It is handled easy.
• Cost is low.
• Fuel efficiency increased and fabricated aero dynamic structural model.
• It is used to compact space.
APPLICATION:
• It is used light vehicle car and race car.
• It is used luxury car model.