Modified Bus Door Model
Published on Sep 03, 2023
Abstract
Now a day more amount of bus door model executed on automobile industries, which is operated on pneumatic cylinder and door open and closed system is used for mechanism based. This is a model also mechanism using and door open and closing system is easy method. We have to fabricate modified on bus door model like structural and guiding system also, this kind of project using material usually using components on automobile parts, which is main applications of passenger vehicle and fashion vehicles.
This is model fabricate low cost assumption and our model fabricated main thing is passenger safety and many people like a modified bus, comfortable and safety this thing we have to consider done which is model.
INTRODUCTION:
Due to more stringent safety requirements, buses used in suburban areas both by public transport companies and private operators in Germany have had safety controls fitted since the early 80s to protect their passengers and to reduce the hazard of accidents in the workshop. The two most important criteria which have had to be met since then are Features protecting persons and objects while doors are opening or closing. q Protective features for the prevention of sudden door movements after cylinders have again been pressurized.
Although this demand for the introduction of the two WABCO systems, the pressure less and the pressure-reduced principle, has achieved the desired safety enhancements, it soon turned out that there was still some room for improvement in these systems in terms of reducing the number of components used, and facilitating maintenance. For this reason, WABCO decided to develop an electronically controlled system which covers the following key requirements:
• passenger safety.
• reducing the hazard of accidents in the workshop.
• easy to handle by workshop staff.
• reducing system expense.
• eliminating maintenance and servicing work.
The development on the basis of these improvements is an electronically controlled door operating system known as ETS which has been produced since late 1987.
The key improvements this system achieves are as follows:
• elimination of limit and drum-type switches.
• elimination of adjustment work to be by the vehicle manufacturer and bus operator's development of a uniform system acceptable to all bus manufacturers subject to their respective safety policies.
• permitting the combination with ETS by means of simple pneumatic drive systems which have been known and established for many years.
• reduction of jamming forces.
WORKING PRINCIPLE:
This is a model fully worked for pneumatic controlled system, which is used rack and pinion mechanism using door open and closing system, when you are need the door open and closed system is just press the push button that is connecting to the loop connection on electric to solenoid valve, which one is an electromechanical device it is being worked for port open and closing system by an air going to here, when the air fills the pneumatic cylinder it has been move forward and backward.
Move forward and backward system using by rack and pinion setup it is rotate spur gear is pull and push the bus door it has timing system.
LAYOUT: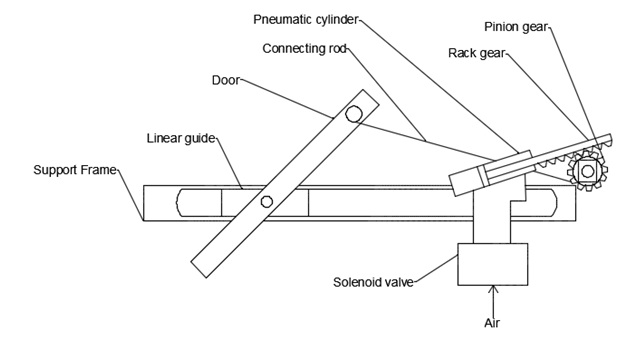 ADVANTAGE:
It is operated driver only so, passenger any one do not operated this one.
It is fabricated simple and cost wise low consumption
It is handled unauthorized person
This is using pneumatic cylinder It has move forward and backward is timing is low.