Active Wheel
Published on Sep 03, 2023
Abstract
Active Wheel is a Michelin-developed tire which incorporates an electric motor and suspension It was presented at Challenge Bibendum 2004's edition on the Hy-Light concept car and showcased during Paris Motor Show "Mondial de l'automobile"in 2008 both on the Venturi Volage electric sports car and on the Heuliez Will.
Like other in-wheel motors, the Active Wheel design provides direct power delivery of approximately 30 kW (40 hp), as well as regenerative braking. In addition, it replaces a mechanical suspension with an active suspension driven by an in-wheel electrical suspension motor that controls torque distribution, traction, turning maneuvers, pitch, roll and suspension damping for that wheel.[3] However, the effects of shocks, water and snow to such an "in-wheel" design have not been precisely studied.
INTRODUCTION
These designs include a raft of alternative fuel vehicles, ranging from electric vehicles, plug-in hybrids and range extenders to innovatively powered bicycles and wheels. The Michelin Active Wheel is a standard wheel that houses a pair of electric motors. One of the motors drives and brakes the wheel and, whilst the other acts as an active suspension system to improve comfort, handling and stability. The system is powered by battery or fuel cell-powered electric vehicles and the technology is such that a vehicle equipped with it will no longer need a gearbox, clutch, drive shaft, universal joint or anti-roll bar.
WORKING PRINCIPLE
The Active Wheel provides direct power delivery of approximately 100-200W as well as regenerative braking. In addition, it replaces mechanical suspension with active suspension controlled by an in-wheel electrical suspension motor.
Each wheel weighs 42kg and includes a drive motor of a similar size to a conventional starter motor. There is also a coil spring to hold the static load of the car and a small outer rotor brake. The wheel motor is attached to the vehicle chassis by a single lower control arm.
In practice, the Michelin Active Wheel has the ability to remove the traditional engine under the hood, gearbox, transmission and suspension system, as all would be incorporated into the wheel technology.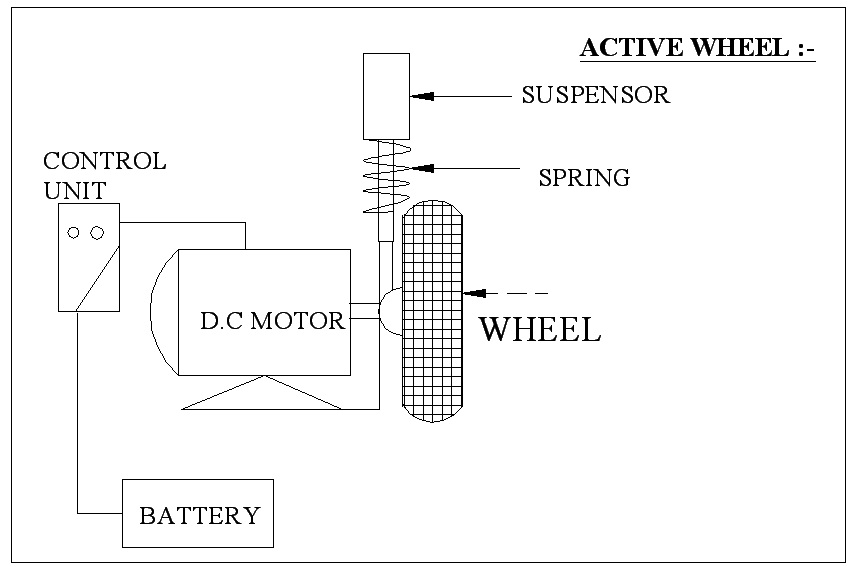 ADVANTAGES
 It requires simple maintenance cares
 Compact size
 The safety system for automobile.
 Checking and cleaning are easy, because of the main parts are screwed.
 Easy to handle.
 Repairing is easy.
 Replacement of parts is easy.
 No oil wastage.
DISADVANTAGES
 Initial cost is high.
 More current drawn from Battery
APPLICATIONS
 It is very much useful for car owners & auto-garages.
 Thus it can be useful for the following types of vehicles;
1) maruti, 2) ambassador, 3) fiat, 4) mahindra,
5) tata
 All Two Wheeler Applications