Lunabotics Robots
Published on Sep 03, 2023
Abstract
Nowadays excavators are used to carry sand from one place to another. It is not continuous and not portable due to its design. Excavators are designed in such like that it can carry a limited amount of sand at a time and it is not continuous operation. It also takes more time to transfer the sand to the moving trucks.
EXISTING MODEL:
PROPOSED MODEL:
Our project proposed that the fabrication of automatic continuous portable sand conveyor which replaces the drawbacks of existing excavators by its continuous operations.
The operation of portable sand conveyor is based on the fact that it consists of more than one buckets to carry the sand so it carries more sand than the normal excavators. The buckets are connected by the chain drive which continuously rotates the buckets and it also consists of belt conveyor which continuously carries the sand to the truck which saves the time and it is continuous.
The operation moving upward and downward of buckets are controlled by the hydraulic cylinder. The time of operation is controlled by the control unit.
PROJECT LAYOUT: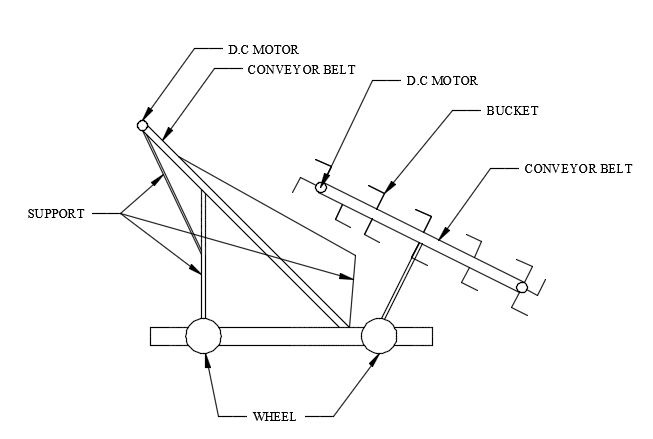 Advantages:
• It is flexible and time saving machine.
• It is reliable.
• Simple in operation.
Applications:
• Used in construction area.
• Used in industries.