Anti Theft Steering Control System
Published on Sep 03, 2023
Abstract
The objective of this project is anti lock steering control system.
Brief methodology:
This project is designed with
 Microcontroller
 Finger print sensor
 LCD Display
 Relay driver
 Solenoid valve
 Pneumatic cylinder
 Flow control
 Power supply
 Steering unit
 Keypad
This project constructed with microcontroller. This project is very useful for anti theft, because steering unit is locked when vehicle is in parking condition. Steering is released when the finger print is matched with the owner's print, then only anti lock steering is released. Then we put key to vehicle on and OFF. If finger print is mismatched at the attempt of three times. Alarm should be on. When vehicle is parked anti lock steering is activated by the microcontroller.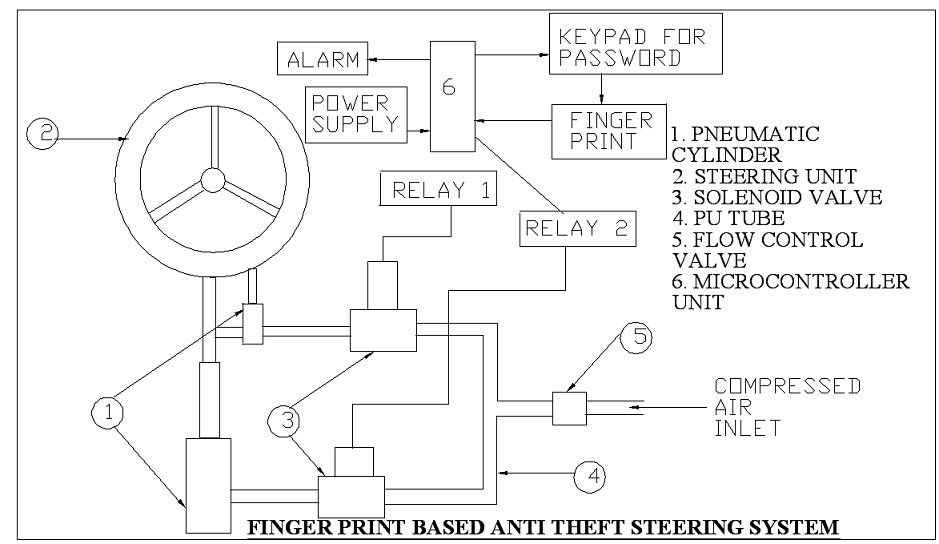 ADVANTAGES
 It requires simple maintenance cares
 The safety system for automobile.
 Checking and cleaning are easy, because of the main parts are screwed.
 Easy to Handle.
 High security.
 Repairing is easy.
 Replacement of parts is easy.
DISADVANTAGES
 Initial cost is high.
 Air tank is required for this operation.
APPLICATIONS
 It is very much useful for Car Owners & Auto-garages.
 Thus it can be useful for the following types of vehicles;
1) MARUTI,
2) AMBASSADOR,
3) FIAT,
4) MAHINDRA,
5) TATA