Automatic Pneumatic Clutch While Gear Change
Published on Sep 03, 2023
Abstract
This Project is a pneumatic operated automated clutch control system. That can be used to pull down and up the clutch with very high pressure using the power of air thus reducing the efforts and errors in gear changing made by human.
The compressed air is going to the pneumatic cylinder through valve. The ram of the pneumatic cylinder acts as a pulling the clutch. The automobile engine drive is coupled to the compressor engine, so that it stores the compressed air when the vehicle running. This compressed air is used to activate the pneumatic cylinder, when the valve is activated.
INTRODUCTION:
This study describes in detail in an understandable way to how to convert the traditional manually gear shifting mechanism to a semi-automated gear shifting mechanism. Increasing demands on performance, quality and cost are the main challenge for today's automotive industry, in an environment where every movement, component and every assembly operation must be immediately and automatically recorded, checked and documented for maximum efficiency. Automotive technology has been developed in many areas, like ABS system, active steering system and other safety systems, which are implemented to increase the passenger safety and comfort. The development has concluded also the gearbox, which became much smoother and produces less noise. Gear shifting mechanism must be easy to use and workable, these demands are very important especially for small cars used by special needs people.
Block diagram: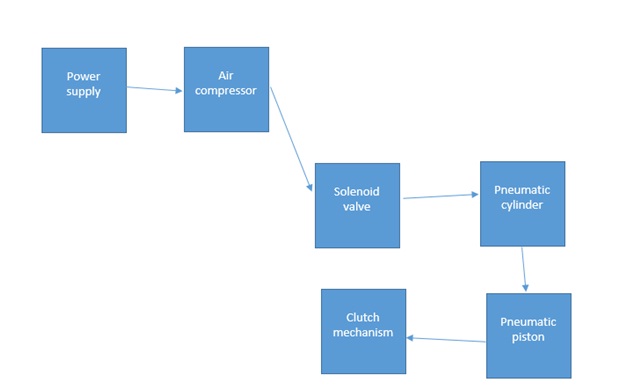 ADVANTAGE:
• Gear shifting is easy.
• Maintenance is easy.
• Fabrication is easy to way.
APPLICATION:
• This using four wheelers and two wheelers.