Automatic Over Load and Optical Indicating System for Over Load Vehicle
Published on Sep 03, 2023
Abstract
An overload and optical indicator for a cargo handling vehicle, such as a truck, trailer, or the like, having a chassis mounting a cargo receiver and supported on wheel axles by springs which yield under the cargo weight with resultant lowering of the chassis toward the axles. The indicator has two separate parts to be attached to one axle and the chassis, respectively, in such a way that the chassis part lowers into contact with the axle part to actuate an overload signal upon loading of the vehicle to a predetermined cargo weight.
The indicator is adjustable to vary the cargo weight at which the overload signal is actuated and is designated to avoid damage to the indicator in the event of deflection of the vehicle springs beyond the point at which the chassis part initially engages the axle part due to continued loading of the vehicle or bouncing of the vehicle chassis and axle in travel. It will be attached optical detecting sensor in front and back position on the vehicle it is avoiding for accident zoon.
Introduction:
EXISTING MODEL:
The weight and overload indicator is designed for easy weighing. A weight indicator in the cab shows how much the load weighs and helps the driver to optimize the utilization rate of the vehicle and avoid overload.
The system works equally well regardless of the type of chassis and suspension.
An assembly consists of four, six or eight force sensors, wiring and indicator. Installation is done on new vehicles or by retrofitting.
• Capacity: 40 ton
• Accuracy: 100 kg
Advantage:
• Weigh the payload directly on the vehicle
• Avoid overload, risk for traffic fines and costly wear and tear
• Easy to use
• Robust construction with long life
• Suitable for all types of chassis and suspensions
• Low investment cost.
EXISTING MODEL: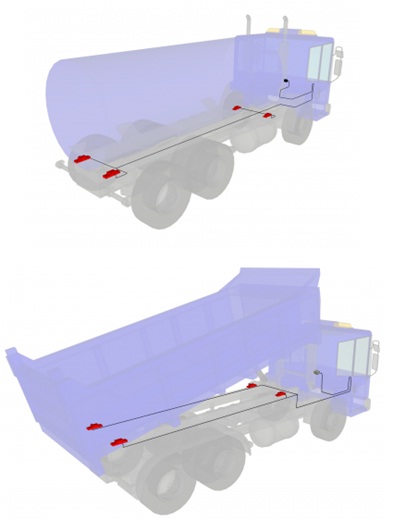 Project layout: